An Outer Borough Drought
by Courtney Gross
July 2009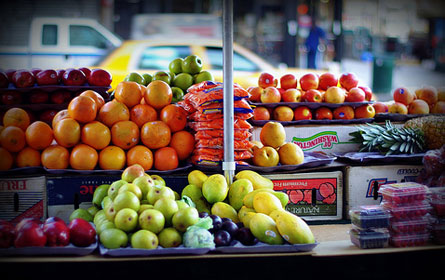 This story was done through a partnership between The Huffington Post's Eyes and Ears citizen journalism program and Gotham Gazette. Gotham Gazette reporter Courtney Gross wrote the piece using stories from New Yorkers gathered through The Huffington Post and Gotham Gazette. Sign up here to join Huffington Post's citizen journalism team covering New York to be part of more of these stories.
Fruit stands are Manhattan's new hot dog vendor, minus the mustard and ketchup.
Their street corner takeover has sparked some New Yorkers, like Upper East Sider Jamie Kayam, to carp that their neighborhood is oversaturated with apples, bananas and overly ripe white cherries.
"In NYC, buying fruits and vegetables has never been easier!" Kayam wrote in an e-mail to Gotham Gazette and The Huffington Post. "When recently discussing life in the city with some friends, a key complaint that came up was that there are too many fruit stands in Manhattan!"
Across the river, Kayam's plight might be a blessing.
The Upper East Side has one of the highest concentrations of food retailers in the city, according to the Department of City Planning. The neighborhood ranks third in the number of grocery stores per capita, boasting more than 22,000 square feet of strictly supermarket space per 10,000 residents, according to the department.
But out of Manhattan, greens get elusive. In the South Bronx, residents have about half of that supermarket space. In Brooklyn's Bedford Stuyvesant, 82 percent of retailers are unlikely to sell fresh fruits and vegetables, and in some areas of Upper Manhattan that number increases to 90 percent, according to city planning.
The Huffington Post and Gotham Gazette asked you how far you travel to get fresh fruits and vegetables. Many of you said veggies are ripe for the taking in your neighborhoods. But a majority of those of you who responded, almost two thirds, live in Manhattan, brownstone Brooklyn or other affluent areas of the five boroughs.
Those outside of these areas may not find a fruit flood, but a produce desert.
This map uses data from the city's Going to Market report released last year. Rollover a district to find out how many supermarkets there are and how that compares to the number of residents.
A Borough Away
Chelsea is an agricultural Atlantis, says resident Steve Panepinto.
"There's a wide selection of fresh fruit and vegetables on virtually every corner not to mention in the half dozen supermarkets that are within three to four blocks of my apartment," he told us. (Chelsea actually has the highest concentration of grocery stores in the city, according to city planning.)
About 100 blocks north it's another story.
"I live in the West Harlem area, and it is incredibly difficult to find quality fruits and vegetables," writes Erin Barker. "It's a big problem. Even when stores have this stuff, it's usually not in good shape -- bruised or not usable. I think it is more difficult in my neighborhood than it is in wealthier areas of Manhattan that have more upscale grocery stores."
Barker, according to the city, is on point. The lower the median income, the harder it is to find fresh fruits and vegetables. (Chelsea's median household income is more than $100,000, while West Harlem's is about $30,000.)
The discrepancy, according to Ben Thomases, the Bloomberg administration's food policy coordinator, explains why the city is targeting areas in Upper Manhattan, central Brooklyn and the Bronx to grow (pun intended) access to fruits and vegetables. It's pushing for produce on the shelves of corner bodegas, has issued 1,000 green cart permits for specific neighborhoods and is now working on financial and zoning incentives to get more supermarkets into certain areas.
"A lot of low-income communities in Upper Manhattan and the outer boroughs were decimated in the '70s and early '80s," said Thomases. "At that time, naturally, a lot of supermarkets left. When the communities were rebuilt, for a mixture of reasons, the supermarkets didn't really come back."
The administration has already kicked off its financial package, which includes tax abatements for new
supermarkets and for those that want to renovate or expand. The city will provide a sales tax exemption for anything related to expanding or constructing a grocery store, from cash registers to two by fours. It also is offering a mortgage recording tax waiver.
To root even more supermarkets in needy neighborhoods, the city's Planning Commission proposes to allow developers to build bigger spaces if they include a supermarket in their plans. If a large mixed-use development has a supermarket on its bottom floor, the city will support the addition of the same amount of square feet of residential space, in effect adding thousands of square feet to the structure. City officials say they will also lower the amount of parking spaces required for supermarkets and are allowing larger grocery stores in manufacturing areas. Currently, these zoning proposals are under review and should be voted on by the City Council by the end of the summer.
Getting Fresh Foods
So far, the city is aiming low. A success to Barry Dinerstein, a senior planner at the city's Department of Planning, would be another 15 supermarkets sprinkled throughout the city's highest need areas in the next few years.
That goal is unlikely to alter Keri Roberts's two-mile bike ride from her Windsor Terrace apartment to the "local" Costco.
"My biggest complaint about living in New York is how hard it is to get fresh produce," Roberts, a technical writer and 16-year Brooklyn resident, said.
For many like Roberts, it's not just about proximity, but cost. If you're on a fixed income, the corner bodega's fruits, while close to home, come with an inflated price tag. "It's just so expensive," said Roberts.
So, some New Yorkers walk (a.k.a. wince and make like it's an added health bonus). Oliver Noble, who is on fixed income, travels 25 blocks from his Park Slope apartment to a vegetable market. Last week, he told us, those blocks cut his produce cost at least in half. He got green peppers for 69 cents a pound -- a bargain from the usual $1.99 a pound.
At least for the next few months, the city's green markets can be a summer savior. The Council on the Environment of New York City, a city-affiliated nonprofit, is running 49 greenmarkets this year across the five boroughs, bringing fresh vegetables (at least temporarily) a lot closer to home for scores of neighborhoods, said Sabine Hrechdakian, the council's special projects and publicity manager. Of those, 23 accept food stamps.
But only 18 of the markets are open year-round, seriously depleting the fresh food supply come the colder months.
Hence, the city's new pro-supermarket campaign.
"We recognize a farmer's market does not take an area that is really underserved by fresh produce and make it all better," said Thomases. "They generally operate one or two days a week. People need to shop seven days a week."
People like Michael Paone, a Crown Heights resident who heads to Park Slope's food cooperative for affordable veggies via bike or two subway transfers. Fresh Direct or a quick and accessible purchase at the local bodega is out of his price range, leaving him with little options.
"It's a shame to me that the main place I can afford (monetarily and biologically) to patronize is not in my neighborhood," Paone told us. "One day, soon, I hope this will not be so.