Gael Greene of NY Mag digs our new joint!
October 27, 2008 | BITE: My Journal
---
The Bad Boy of Bun Does Good – So
Far – at BarBao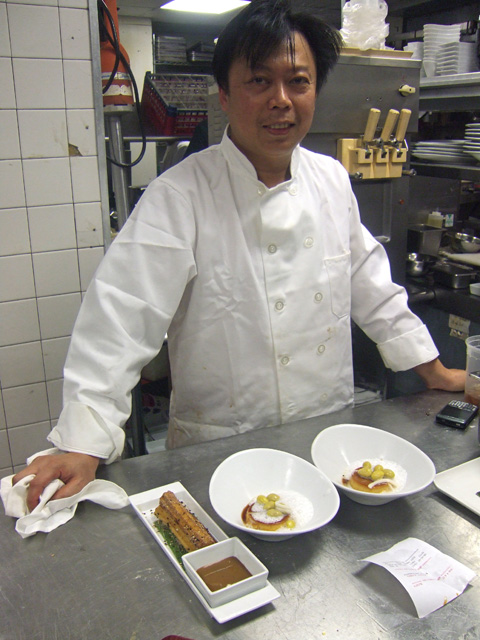 Michael Huynh, the wandering chef, has settled at BarBao for now. Photo: Steven Richter
The Vietnamese Don Juan of bun and pho Chef Michael Huynh, had the grace to look a little discombobulated at BarBao, his new perch on the Upper West Side where Rain reigned for 13 years, or so it seemed to me. Perhaps I just imagine he feels the weight of his legend as a serial rover and of the numbed partners he has left behind since we discovered him at Bao 111 in 2002 and sent savvy uptowners to brave this new stirring on Avenue C. But maybe it's not guilt at all, or even embarrassment. Perhaps it's just jetlag from the summer in Vietnam. Or the push to master a new kitchen. Michael is here. His food is already very good, even wonderful, exciting enough to bring us back two nights in a row, eager to taste more.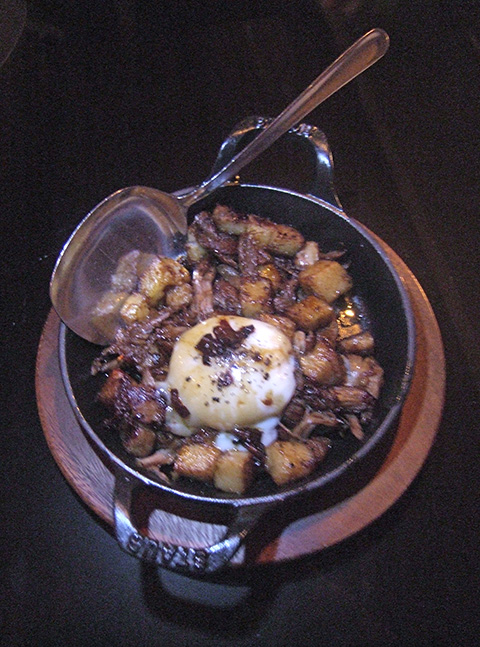 A tremulous poached egg rides atop the marvelous daikon-bacon hash. Photo: Steven Richter
Both nights I focus on the roster of small plates and noodles, not just because they're cheaper -- $8 to $14 (for baby lamb lollipops – small chops, sublimely caramelized, lying on a little jalapeňo pesto), but because they sound more Vietnamese. Big plates ($16 to $27) of Berkshire pork belly with braised red cabbage, roasted guinea hen with corn, and crispy red snapper with plum tomatoes and pineapple in a sweet and sour sauce strike me as a bow to the timid. Playing it safe on the Upper West Side. Not what diehard Huynh food fans seek.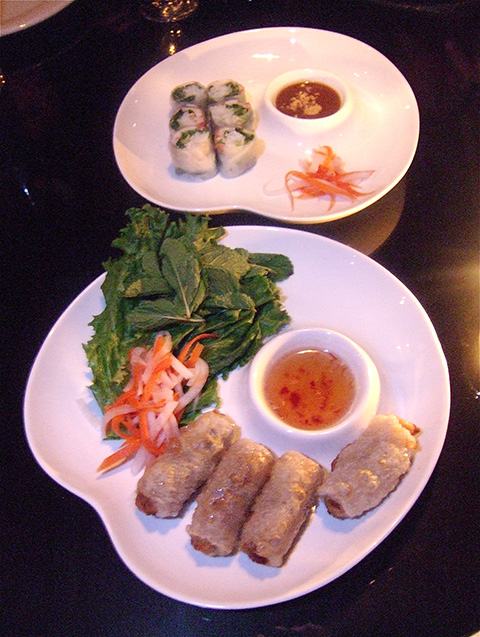 Crab spring rolls and summer rolls cut Japanese style. Photo: Steven Richter
Tight little summer rolls, plump with -- vegetable, shrimp, duck confit, Berkshire pork or short rib – are delicious and elegant, cut in six pieces, as you would a sushi roll, the better to share. I marvel at the mystery of how pickled white peach chunks came to keep company with marvelous salt and pepper crispy sweetbreads and braised bitter melon in a Chinese sausage vinaigrette. A tremulous slow cooked egg nested on daikon duck hash with duck bacon brings back memories of a favorite from Huynh's stormy in-and-out days at
Bun/Soho
. There his menu seemed to be most his own after he had adandoned Mai Place where Drew Nieporent had guided him to a new level of brilliance.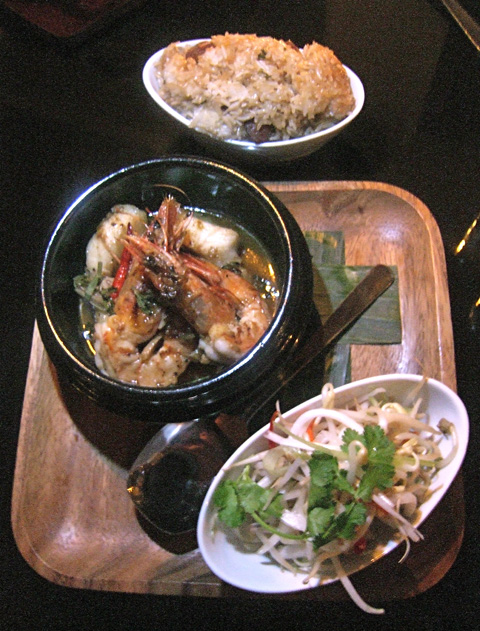 Giant prawns ride atop the delicious Mekong market clay pot. Photo: Steven Richter
It's early. Second night, we're told. During the day designers Jason Volenec and Silvia Zofio of RKIT are personally pasting collages on the ceiling - like those between wooden panels in the entrance that has the look of a shabby hotel left from Hanoi's colonial days. The bar top has yet to arrive. There's a handsome back room bar for snacks. Shredded propaganda posters on one wall in the dining room are meant to look like a bar code. You might not get it, nor recognize cedar grape-stakes that form a ceiling, if you haven't read the press release. At some point, a bit more color may add a little cheer to the faded antique violet and rose velvet. But there's a light above every table and even we can read the menu without a flashlight. Big black capital letters suggests boomers and their elders are welcome.
A rotation of eager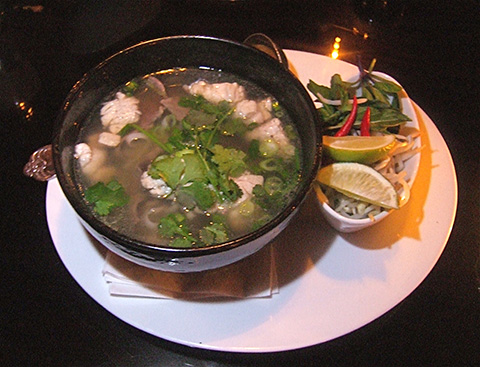 Beef pho with sweetbreads. Photo: Steven Richter
waiters tries not to seem disorganized. "We serve everything for the table to share and dishes will arrive at random," they announce with authority, guiding me to the tartest of their $10-$12 cocktails, the "Jane Fonda," a mix of rum, ginger liqueur and lime. The "peel and eat" chili garlic tiger shrimp are so crisp and fragrant, no one's peeling. We're just eating.
We ask to have the yame soup in four bowls – its garlicky broth is lush with rock shrimp, crispy leeks and chunks of Vietnamese potato. The intense broth of the pho noodles gets spooned out at the table, with swirls of rare beef and chunks of voluptuous sweetbread. Mekong Market Clay Pot, with giant prawns, fish and pickled chive is lively and delicious, unlike the rather boring too cooked Iron Pot Chicken. And grilled American Wagyu hanger steak on Asian eggplant is even better the second night – rarer, juicier, wonderfully caramelized. We are instructed to dip each slice in the spicy ginger sauce, drag it through crispy rice bits and pop on a leaf of Thai basil.
Alas, those three baby lamb lollipops are definitely not designed for the four of us to share. We offer to pay for a fourth little chop. "Of course," says the waiter, returning several minutes later with another order of three chops.

"That's what the chef wanted to do," he offers. Not a solution in my book. We also have to ask for lettuce and herbs to wrap the crab spring rolls to dip in its nuoc cham sauce as we would in Vietnam. Opening week jitters, I'm later told. That's why there's a 20 per cent discount all week. And supposedly you'll be able to specify how many lamb pops you want and be charged accordingly from now on.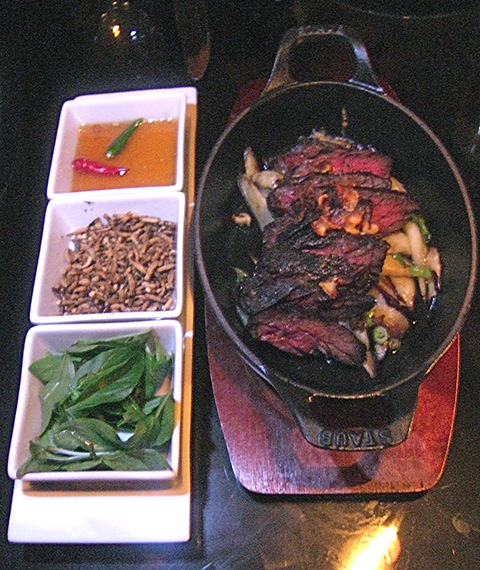 American Waygu hanger steak on eggplant with ginger sauce and rice crisps. Photo: Steven Richter
As often happens when I'm eating Huynh's food, we've over-ordered and no one wants dessert, but out of the kitchen come a squash flan with ginko nuts in red wine puree and an order of Vietnamese beignets – sprinkled with black and white sesame seeds – to dip in Vietnamese coffee-caramel sauce. True to our gourmandlich heritage, we manage to taste.
With food this good and Michael Huynh's charisma (bad boy or not)…with the stage set-like bar lounge already looking sexy in a neighborhood that needs a sexy bar lounge, I can imagine this place heating up again – as in the early days of Rain. It's priced to ride out the economic storm. And Main Street partners, Steven Scher, Paul Zweben and Jeff Kadish feel Huynh wants to be in one place and succeed and build on it. "We have committed to each other that this is our focus," as Sher puts it carefully. "We've had success before…with a bad boy. Alex Garcia has a checkered past, but he keeps coming back to Calle Ocho and it's busier than ever. I am not going to stop him from pursuing other ventures if I'm not willing to do them. We even had a good run with Rocco at Union Pacific," says Sher.
"Michael is a real talent and he feels things have not gone well because he's never had the right partner," Sher goes on. "I looked him in the eye and I saw this talent and I thought it was a good risk for us. We are the right partners for Michael." And just in case you're skeptical, sous chef Andrew Chang already has billing on the menu.
100 West 82nd Street near Columbus. 212 501 0776.